A busy weather weekend is ahead as a slow-moving storm system brings a variety of weather impacts to Texas. Lets start off by saying wet weather is expected through Monday across a large section of Texas. We will have regions that have some higher-impact weather potential, but for most this will mainly be a chilly, wet weekend. By Sunday we'll see rain chances drop off across the Panhandle, Northwest Texas, into North Texas as some slightly drier air filters in. Rain chances shift back north into the Big Country and North Texas by Sunday evening. Finally rain chances start to decrease from west to east on Monday.
Winter Weather Potential
Our first winter weather of the season will kick off tonight in the western Texas Panhandle. We'll see light rain change over to snow by early evening. Some snow may mix in with the rain as far east as Amarillo to Perryton. This is not expected to be a big winter weather deal as surface temperatures will be near or above freezing – except in the western Panhandle – and ground temperatures remain well above freezing. One to three inches of snow will be possible in the western Texas Panhandle on grassy surfaces plus on bridges and overpasses. Slick spots will be possible, but surface roads should remain okay. If we have a heavier burst of snow occur there is the potential that road conditions could go downhill in a hurry over a localized area tonight. Snow should switch over to rain by early afternoon Saturday as temperatures warm above freezing.
Severe Weather Potential
A category 1 severe weather risk is in place later this afternoon and tonight across Deep South Texas, South Texas, and the Middle Coast. A marginal risk of a severe storm or two may develop as wind shear values increase and the atmosphere becomes modestly unstable. Widespread severe storms aren't expected and any issues that develop will remain localized. The strongest activity may produce small hail, localized gusty winds, and a low risk of a brief tornado. We'll also have to watch for any waterspouts that try and move onshore and become brief tornadoes on the coast.
A category 1 severe weather risk is in place on Saturday across South Texas, the Middle Texas Coast, and the immediate coast in Southeast Texas. A few brief severe storms are possible with a risk of small hail, localized gusty winds, and brief tornadoes. We'll have to watch for any waterspouts that try to move onshore. Widespread severe weather is not expected at this time, but we'll have to keep an eye on off-shore cells that may be producing waterspouts as they move toward shore.
Heavy Rain/Flooding Potential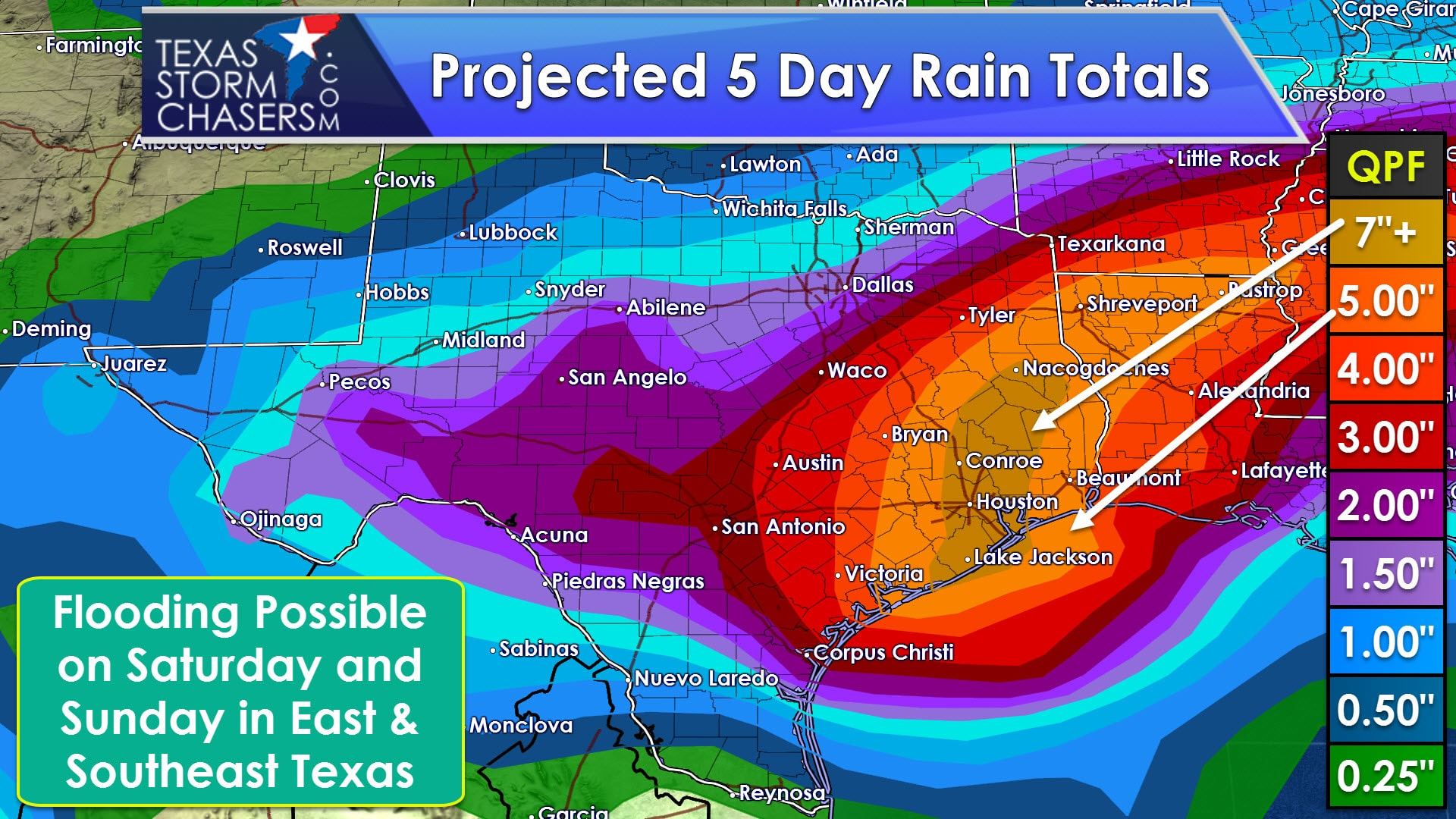 Rainfall totals have continued to increase across Southeast Texas and East Texas this weekend. With the increase in rain totals we're now looking at a more significant threat of flooding in those regions on Saturday and especially Sunday. Widespread rain totals of 3 to 5 inches are possible in Southeast Texas and East Texas through Monday. Localized totals of 10 to 12 inches will be possible. The risk of flooding is very low today. The flooding risk increases somewhat on Saturday as we see slow moving, heavy rains develop. Soils can handle a couple inches of rain before problems develop, so widespread flooding isn't likely to develop tomorrow. That may change Saturday Night and the risk for flooding becomes significant on Sunday. The overall flood risk will continue to be refined today and on Saturday, but flash flood watches are likely to be issued for Southeast Texas and East Texas. Those in Southeast Texas should be prepared for flooding by Sunday as very heavy rains are likely.